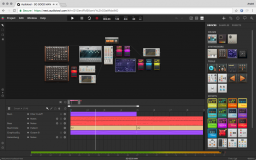 update
Big Next Update
Audiotool Next got a big update!
What's new?
Remixing Next projects
Licensing of assets and projects
Official multi-projects support
New application menu-bar
Chat-panel has been moved to app-panels (right)
Shiny new start-screen | Check out Connect >> Contests >> Audiotool Demo Contest
New tiny status-bar
Tons of bug-fixes
What's next?
We are very close to a release-candidate. The last missing piece is importing your old flash-tracks. This will be implemented soon!
Yours Audiotool Basement ♥︎