update
New Audio Drivers Available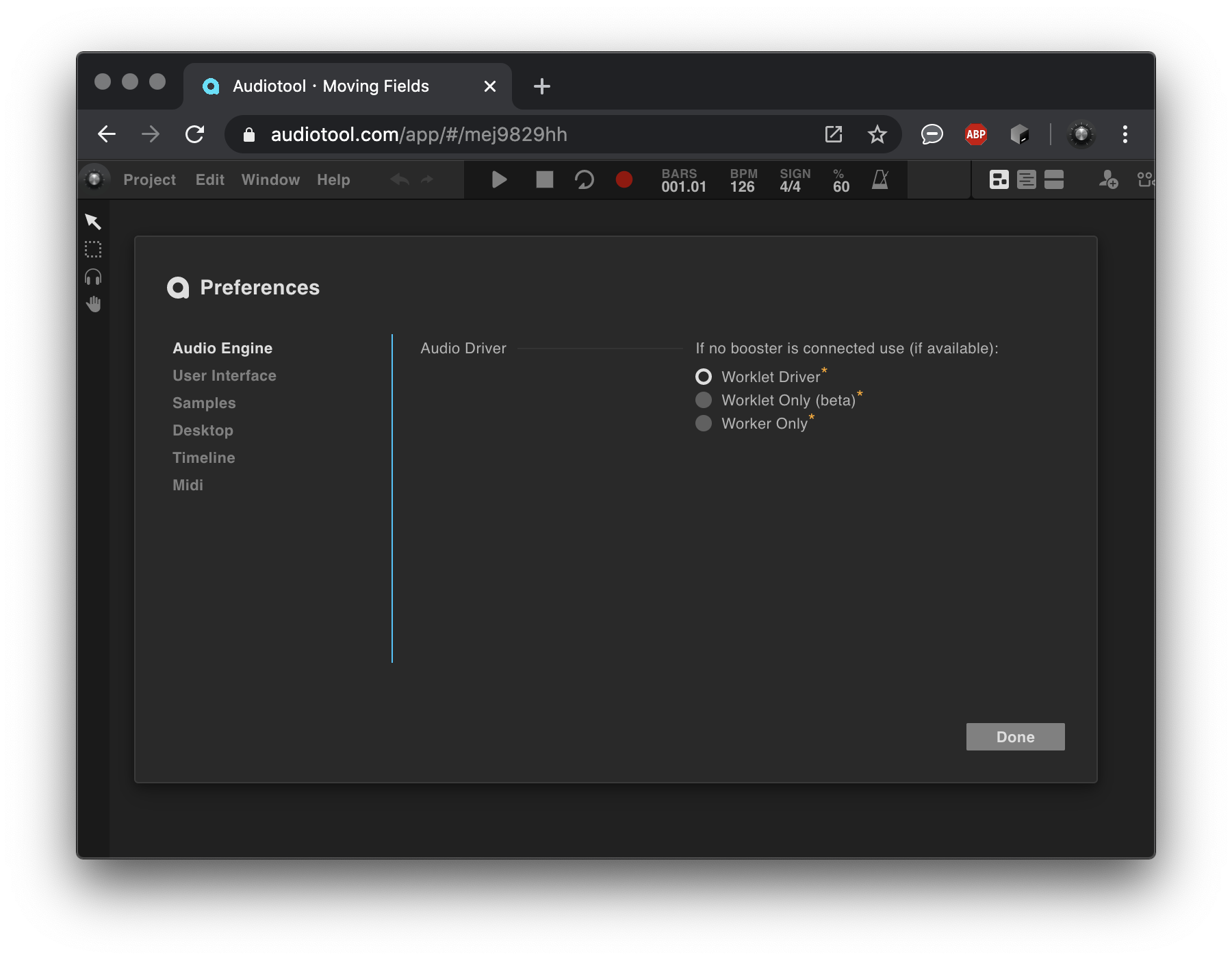 Audio in audiotool
We are constantly evaluating new ideas and techniques to improve the audio quality and reduce glitches. The web-audio-api is also changing a lot, but it seems that it never gives us the exact ingredients we were hoping for. To this day, we are supporting four different audio driving systems. You can now choose between the drivers in the preferences dialog. However the studio will only start the driver, if the necessary web-features are supported. The selected driver is printed in the bottom status line.
Our Current Solutions
Booster - Best performance, but requires extra software (works for Chrome and Firefox)
Worklet-Driver - Has been the default Chrome. Not ideal, but acceptable performance.
Pure Worklet (Beta) - This will be the future default for Chrome and Firefox. Right now: Chrome only.
Worker - worst performance, involves the main-thread. Fallback for Firefox.
What's new?
Pure Worklet is the web-feature we were waiting for a long time, but never quite matched our expectations. On paper it is very close to the sound-card driver and runs in a dedicated, prioritised audio-thread. Combined with a SharedArrayBuffer, display information on peaks & spectrums are shared with the user-interface (super fast). We are not going into details, on how each of these implementations work. If you like to discuss them, feel free to open a topic in Support >> Help
Testing
To avoid unpleasant, unforeseen problems, we encourage you to test the Pure Worklet (Beta) on Chrome. If there are no unsolvable complains, we still have to wait for Firefox to catch up on another web-feature (rumours are talking rather weeks than months). But after that, we can hopefully deprecate two drivers, leaving us with the Booster and Pure Worklet and less code to maintain.
Yours audiotool basement, at your service.