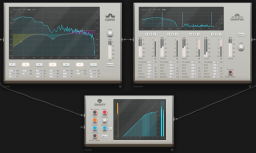 update
New Devices! (GRAVITY, CURVE & QUANTUM)
Welcome our latest family members!
Gravity
An ordinary single-band compressor with a visual twist for a better understanding on how compression works. It features side-chaining, an adjustable sensing algorithm and also a soft knee beyond the threshold.
Curve
Probably the most popular effect plugin in Probe ((link is only visible to registered users)) is now available in audiotool. You can use it to equalise the spectrum of your track as a mastering device or as an effect anywhere in your audio chain.
Quantum
Quantum is the new flagship for mastering purposes in audiotool. With four individual bands and an adjustable sensing algorithm, you can get the most of your track.
Create an account or Login to write a comment.