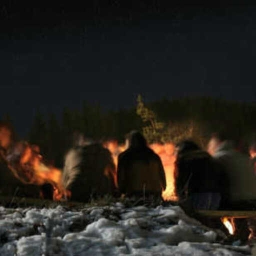 Here's my first attempt at drumstep! It was tricky to make, because making dubstep(sorta) at a higher bpm is harder than it sounds like. The wobbles are way faster so it's hard to make them without making them too fast or too slow. But I hope I managed okay. It started off good with a good intro and a buildup. Drop was good, basslines too, but they were starting to move to a way too random direction so I started over by making the wobble parts on the end of the track and then removed old parts and replaced with new ones. Last night I was on fire with this :p Finally could sit down and finish my ideas.
Hope you like it :) Let me know if you got any spooky campfire story memories :)
Thanks Infyuthsion for stopping by at the chatzy and giving me tips on how to reduce clipping :)
17/10: Updated drop. It now has that small break before hitting dem wubs. Like it now?
17/10 #2: Changed first drop again, changed some wub parts, some melodies were playing on top of wubs so I removed those, also changed outro a little.
18/10: Added Stereo Enhancer. Don't think it changed much, but if it did, hope it was for better
19/10: With the help of (link is only visible to registered users) I improved the bass a lot. It now has stereo to it :p I don't know, it sounds better than old version so I'll go with that :) Some bass parts in notes have changed, minor details really
Create an account or Login to write a comment.