announcement
What's Up for 2019?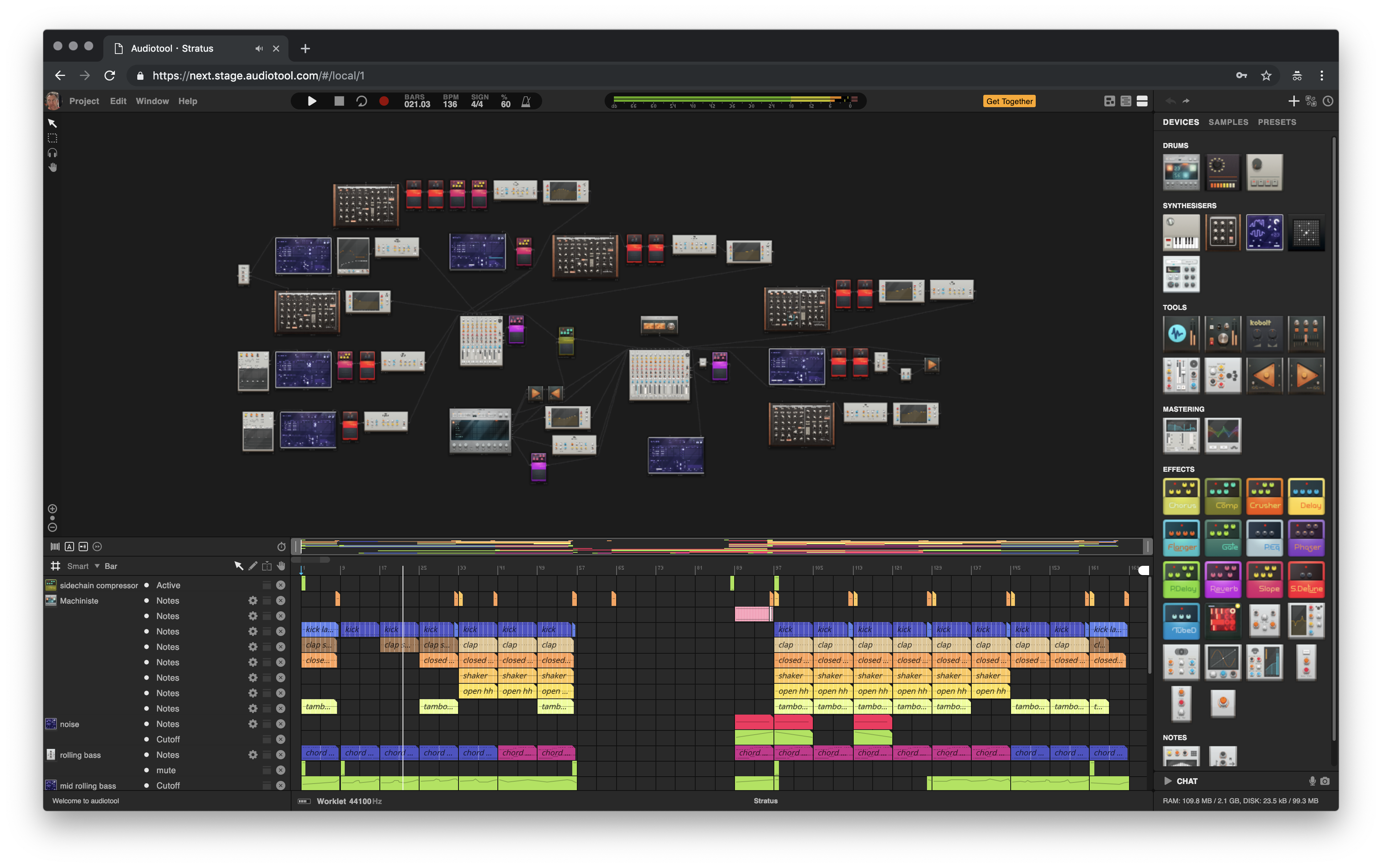 Dear fellow audiotool friends!
With Audiotool Next launched last year, you might wonder what is coming up this year. So here are some spoilers that will get you excited! The main goals of this year's development are performance, stability and usability. Here is how we do it.
New Audio Engine
We started to develop a new audio engine recently, which is based on Rust and Webassembly. In a nutshell, Rust is a fairly new language that ensures both, secure memory management and compiling to fast assembly code, while Webassembly is the latest technology for the web, boldly claims to execute code almost in native speed inside your browser. Both should meet your expectation from usual desktop software. The new audio engine will also be multi-threaded, making use of every cpu core your computer has to offer. That means, devices will be rendered in parallel, drastically reducing the overall computation time. This is by far the biggest improvement since audiotool exists. Not to be expected before summer, but it totally worth the wait because it will open many gates to more advanced and amazing devices.
Overworked User Interface
Our currently in development, completely new foundation of the user-interface will be much easier to extend with new features, ready for future endeavours. Design-wise, it is way more compact to avoid wasting unused space on your screen with smaller font sizes and less paddings. It also looks incredibly good and will give you options to customise the shading of the app to your mood. We expect this to be shipped by the end of February along with many tiny enhancements already.
Welcome our new developer
Finally, we can welcome a new talented developer in our team! His real name remains a mystery though. Check out his profile, but don't you dare to ask for feature-requests on his wall :) His first goal is to focus on the new audio-engine. Please give him a warm welcome! Known As I
Miscellaneous
While these were basically updates from the audiotool basement, it is worth mentioning that we also plan new contests and challenges later this year. Meanwhile consider to help us further improving audiotool with a one dollar pledge at (link is only visible to registered users)
Create an account or Login to write a comment.