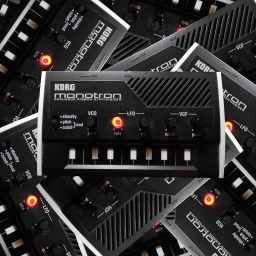 In the Klub Affekt competition, I made Residue to place 9th and win a Korg Monotron. I decided to make a track using only the prize and Audiotool effects. I called this "Polytron" because there are multiple layers of Monotron.
The production of this track was tedious. I started with the bass. I set the LFO so that the bass rhythm would match something close to 110 bpm and got 108.81 bpm. In trying to make the resonant sixteenth note bass, I got lucky and came very close to matching this tempo. Kick drum was created by turning up the resonance so that it became the tone and using the filter LFO for the downward pitch sweep. Noisy samples such as the snare and hat were created by using LFO to create noisy samples and layering them. I had a good time with the firetruck.
The lead was hard to record. The Monotron doesn't have discrete pitches so specific pitches are played by pitch sliding on the "keyboard". But the ribbon keyboard does allow me to apply vibrato. I had to record 20 takes, without even a single completely successful take. I ended up mashing the beginning of one take with the end of another. Pads were then created by layering multiple recordings.
Create an account or Login to write a comment.