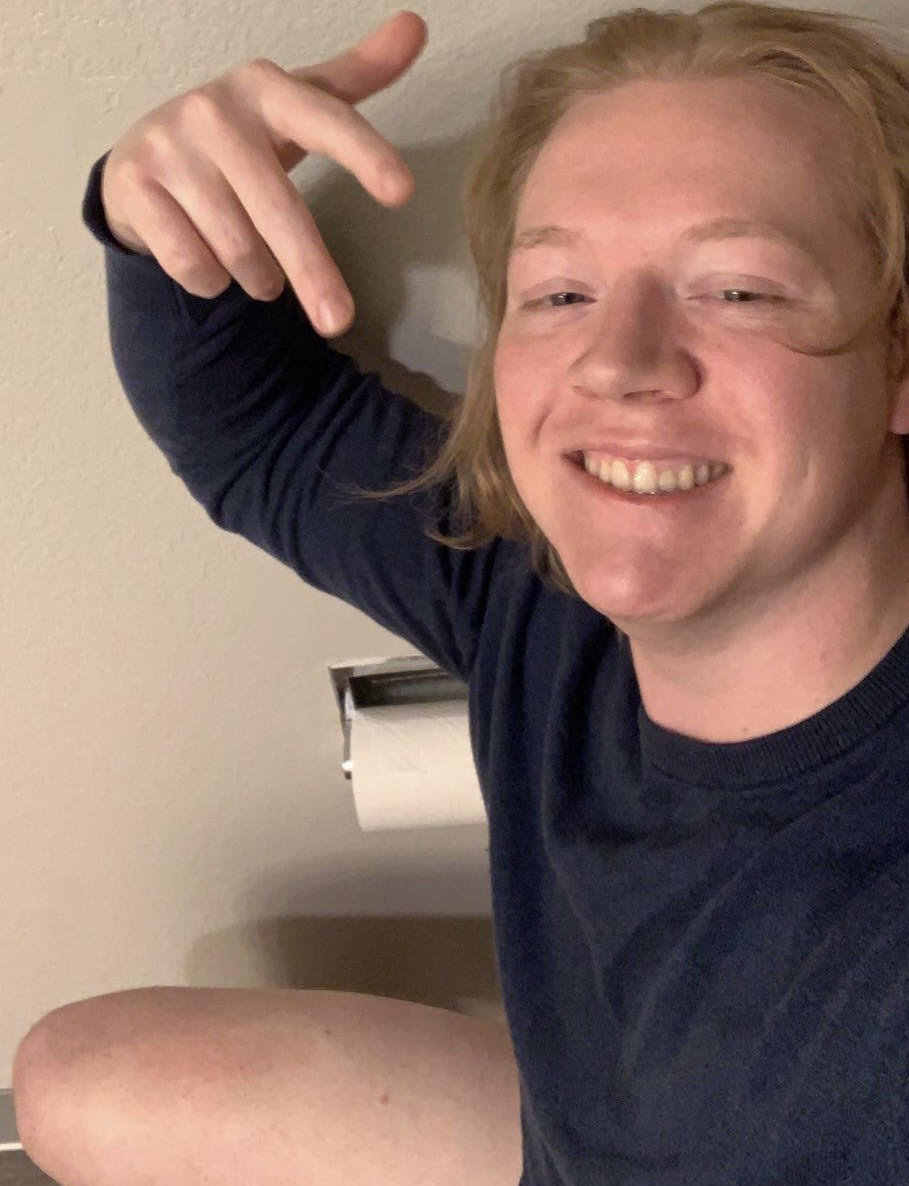 Frogs in suits, audio memes, funny pictures and titles - often exceeding the preview in length; That's Joe.
But anyone who sees in Joe only the anarchic joker - which he undoubtedly is - does him an injustice. His work of art is much more: He surprises in between with a well-considered dose of seriousness. One of his covers shows a sad clown. Whether intentional or not, this suggests how we can interpret his work. His lyrics play skilfully with the advantages and disadvantages of the zeitgeist and the life of young people in this period of human existence. So he doesn't limit himself to sharing funny pictures but uses meme culture to express his message.
Interview:
About joe :
My name is Joe, I am 23 years old, and I make music on Audiotool. I started out like most people on Audiotool, putting together royalty free loops that were barely recognizable as music. But since then, I've explored a lot and learned how to get what's in my mind, into the draft. I play ukulele, bass guitar, and drums. You can hear those instruments in my three acoustic albums. two of which were recorded while I was attending college in Alaska. I have a degree in special education and its helped me in my music by giving me the vocabulary to express criticism. Lately, I've been making more and more hip-hop and rap, I love collaborating with my friends and since Audiotool Next launched, its been that much easier to work with some of the most creative artists I've had the pleasure of knowing. The rap music I make is supposed to be entertaining and its fun finding words and phrases that are silly and rhyme. The acoustic music I make is more serious and warm.
Which artist has had the most influence on you (on and/or outside Audiotool)?
Most influential artist for me has to be Ollie. Ollie was around when I began experimenting with other genres and was a big supporter of my acoustic music. They gave me the courage to try and that meant a lot. Let alone the positive feedback Ollie gave me, they made this synth that I, to this day emulate in my own drafts. A little wobbly synth with long phrases, ohhh, chef's kiss man. It just warms everything up.
Who would you like to work /collaborate with on and outside Audiotool, and why?
I would love to collaborate with André Michelle. I love André's style and sound choice. It would be one of the best collaborations on the site. Simply because the juxtaposition of our listener base and overall vibe, we could make something completely new.
Which film/game would you like to produce the score for or contribute a song to?
I've never really pictured the majority of my music over a movie or game. Maybe my ukulele tracks could be used in an advertisement for a start up promo video or something?
Have you ever had a writer's block? If so, how did you deal with it and what do you recommend to your colleagues?
Oh yeah. I've noticed that writers block is kind of cyclical. it goes away and comes back again. So I've figured out a system for curbing writers block that works well for me. If I'm having writers block, and I cant for whatever reason make some Hip-hop, I know its time to record some acoustic music. Having a different outlet gives me enough time to come back to Hip-hop with a fresh state of mind. And when I get writers block after a while of Acoustic, i know its time to make some Lo-Fi.
What has helped you the most on Audiotool to improve and widen your musical horizon?
Widening your horizons is all about going out of comfort zone and trying new things. I would've never known how much I enjoy rapping until I took that initial jump and pressed record. You never know, you might be really good at it.
What do you like most about Audiotool? Is there anything you would like to suggest?
I like Audiotool because its free. Not that I'm poor and cant afford Ableton, I am and I can't but that's not the point, I like that its free because it makes music production available to so many more people. Audiotool's community is one that has proven time and time again that it has raised up some amazing artists that if Audiotool wasn't as accessible as it is, might not have been able to make beautiful compositions and killer jams. Audiotool has been that way for me as well. Growing up without a lot of those material possessions, I'm so thankful I got into this music thing while I was young. I'm really looking forward to making more music for the community. Nothing to suggest, I love it here
Your message to the community:
Gb_Yeaah_Stutter_Vocal_Fx is a good sample [Editor's note: hehe]
Social/Musical Links:
no social links :) My music is only available on Audiotool
Album
Track #1:
Hurdle over the hurdle wip by Amp7070
I love the vocal work in this one, Amp is in a completely different league of vocalists on AT, whenever they publish a track, it makes me want to get better at mixing. Every time this person uploads, I am blown away.
[[EMBED:https://www.audiotool.com/track/6zj8ml5jn7/]]
Track #2:
stressed out by aeiter
Aetier is one of those artists that really knows how to express a feeling through music. This track has made me cry on multiple occasions. The warmness in the tones and the reminessant mood will transport you to a place where you never want to forget where you were.
[[EMBED:https://www.audiotool.com/track/stressed_out/]]
Track #3:
GEAR by rid and leadenshrew
An amazing collaboration between my two favorite bass music artists. The raw energy this track gives off will make the most conservative person jump into the mosh pit. If you feel like doing some remodeling in your kitchen, grab a sledge hammer and turn this song on. Just amazing work.
[[EMBED:https://www.audiotool.com/track/ljnb5m7r74/]]
Track #4:
Boogie-Moogie by Frigolito
A classic from one of the many music geniuses on this website. Frigolito set a standard on this site when he published this masterpiece. The synth solos are too good not to listen to it three times in a row. The changes in their submission to moogfest are a wonder to behold. If there was ever a perfect song, this is it.
[[EMBED:https://www.audiotool.com/track/boogie-moogie/]]
Track #5:
Nico and jgord's entry to AT day2021 gives off such an intimate sound that you almost feel guilty for intruding on their deep, private thoughts. I love this song for its ability to draw out a simultaneous feeling of regret and redemption.
[[EMBED:https://www.audiotool.com/track/9p4utbomvd4/]]
Kinda Broken by joe
I made this song after being in a pretty serious car accident. I broke 2 ribs and fractured my wrist. I got home after the hospital and wanted to see just how much I could tolerate playing ukulele, turns out I could still play; so I did. :)
[[EMBED:https://www.audiotool.com/track/507t3p3sr/]]
Full Album