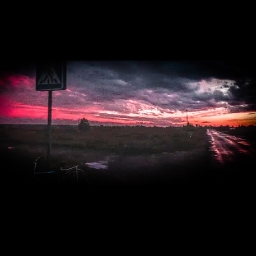 I have a feeling this is how Vltra's brain works during the time when he's making music.
It is like you convert his neuron signals and data into sound. So I think this is what is happening in his brain while he's making music.
____________________
I was creating a completely different artist and by accident, I traveled to this sound. Right away it reminded all his #- [nothing000 - nothing] series, that he did 6 years ago. I realized the actual main key that is hidden in Vltra's music - Nostalgia. Whenever I listen to ( especially ) his old tracks it gives me some memories from the past and a nostalgic feeling. It sometimes feels surreal but it is like there are some hidden messages in his music which you can't describe whatsoever. He could create a loop that could repetitively play for 10 hours and still mesmerize you in every second of it.
The cover represents my feelings towards his music, translate the way you want. Nostalgia.
_____
The number of pulsars serves for the filtering. Rassel's are automated to control the swing on particular sounds throughout the track. Also, I admire the harsh compression in such works, it just works so well.
____
Go listen - @VLTRA
____________________
Check out other tunes:
Create an account or Login to write a comment.