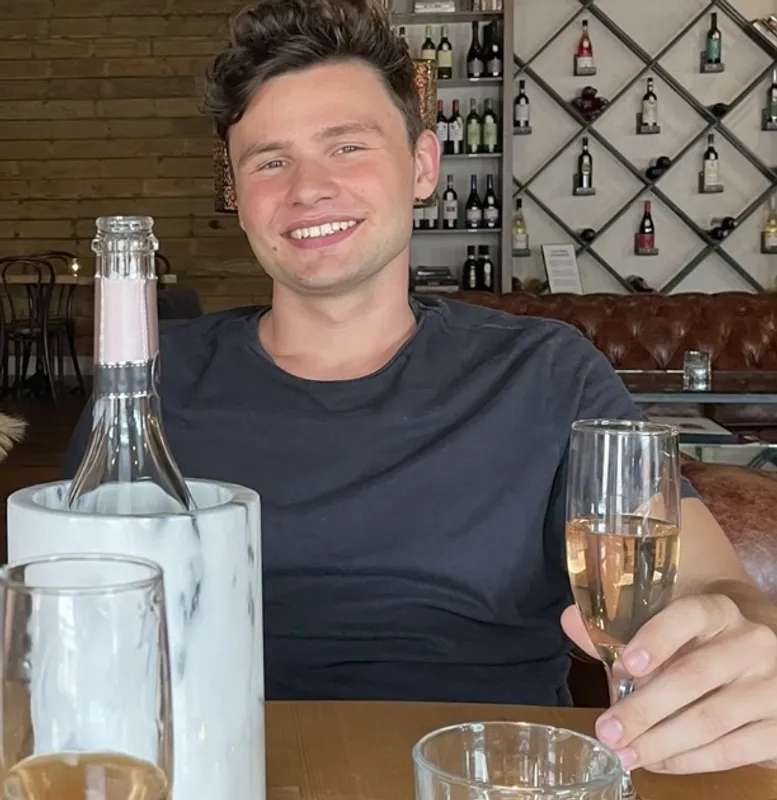 Andy is, without exaggeration, one of the great vocalists of Audiotool. He is not afraid to use his Pop Music-oriented timbre for more lo-fi, experimental sound structures. The tension that this mixture of easy listening and complexity creates sets his work apart from the uniformity of the contemporary Pop landscape and makes him unique on Audiotool. We sincerely hope he will get over his "creative break" soon because he still owes us a vocal recording with the prize won in the Summer Song Contest - an award he fully deserved. Come on, Andy!
Interview:
About Andy aka andy
Howdy I'm Andy, 23, and have been on AT since 2012. I'm from Eastern Pennsylvania, USA (Go Eagles) and went to school at University of Pittsburgh. The last few years I've traveled all around the country working and until this year I finally stayed in one spot and I was able to put more time into music. My favorite style of music has changed drastically over the years but for now I'm in love with pop music. Guys like Frank Ocean, Jai Paul, Phoebe Bridgers and even Justin Bieber taught me a lot about writing music/lyrics, and I owe the improvement of my music abilities to them. Also, the best pizza is obviously bruschetta.
Describe the style of music you produce
I started with House on my prior accounts, but then I learned about the beauties of Ambient music(Thank you Brian Eno!). For years I spent time making ambient and lofi, until I heard Jai Paul's music. If you haven't heard his album I seriously recommend checking it out! From there I got into more pop music, and eventually starting doing vocals. Since my baptism by fire with vocal production, I feel way more comfortable with adding them into any genre.
What is your musical background and when did you start making music?
Growing up, my family had a huge 1920s Steinway piano in our family room, which was given to us by my great uncle who actually worked for Steinway. As a kid, I always wanted to be able to really play it but unfortunately that is still a work a progress. However the piano taught me some simple music theory such as learning all the major/minor scales. With Audiotool, I wanted to be like deadmau5 in middle school, and I found Audiotool when searching for free DAWs. After all these years I still stick with Audiotool because I love the community, and the ease of use.
What is your favorite Audiotool device and why?
There's way too many options for the best device! The quasar and pulsar delay are super powerful and currently the most used device in any of my tracks. I also couldn't leave out the Pulv, as it is still my favorite synth in the studio. Probe also deserves a shoutout, as it is seriously some awesome software, and the reverb effects are incredible.
What is your favorite trick in AT/What technique do you always use?
Reverb and Delay Aux sends are your friend. Being able to control the effects via the centroid's sends always sounds really great. A little subtle reverb on a channel can make a huge difference.
Have you ever had a writer's block? If so, how did you deal with it and what do you recommend to your colleagues?
I'm actually in one right now! For the last few months I felt like I had never-ending ideas and everything came so easy to me. However this month I feel unable to create any good ideas, or add to any of the drafts that fill up in the corners of my mind. The truth is that patience is always key, and never try to force it. If you don't want to walk away from music for a time, then find a different medium. Currently I'm spending my time practicing piano and guitar instead of Audiotool.
What has helped you the most on Audiotool to improve and widen your musical horizon?
I owe so much to the people of this community. Not until this year did I really dive into making new connections on this site, and you guys are some of the coolest people ever. Outside of the internet, I never knew that many people into music production, so its amazing being able to talk to like minded people. Shoutout Naswalt, who helped me understand sound synthesis with the Pulv, and was one of the first people who showed me the possibility of vocals in Audiotool. Shoutout Fluent and Sim as they expanded my horizons with different genres, especially in Bootyclub :).
What do you like most about Audiotool? Is there anything you would like to suggest?
I love the dev team and everyone involved with the building. maintaining, and growth of this site. You make this all possible, and bring so much light into people's lives with this small music app. The Audiotool team may get hate sometimes but I hope you guys realize we all love you!
Your message to the community:
I hope everyone keeps continuing to work on your craft and keeps improving. I try my best to stay up to date with everything people publish, but post your tracks on my wall, I'll give them all a listen. Feel free to reach out to me at anytime to ask questions or just talk!
Social/Music Links
Instagram: https://www.instagram.com/abagshaw7/
Edition Audiotool: andy
Track #1:
socio.pass by fidelity
Everything Fidelity made was weird and I loved it all. This track blew my mind first time I heard it, and still does to this day.
[[EMBED:https://www.audiotool.com/track/socio_pass/]]
Track #2:
wasteland by naswalt
One of Naswalt's first hits! I'll love this track forever, the vox hits just right and the sax is top tier.
[[EMBED:https://www.audiotool.com/track/wasteland-xiqfuxwr/]]
Track #3:
Ghosts (Ace Ex Remix) by Ace_Ex
I remember the first time I heard this, I thought "This wasn't made on Audiotool." Little did I know back then, that you can absolutely get that professional sound on Audiotool.
[[EMBED:https://www.audiotool.com/track/ghosts_ace_ex_remix/]]
Track #4:
bored by dove
Dove is the king of Audiotool in my humble opinion. His beats are mint and his vocals always fits perfectly. I'm still waiting patiently for the next dove song.
[[EMBED:https://www.audiotool.com/track/xtmumz3nmhf/]]
Track #5:
pete by looks
Lux somehow always had the simplest tracks but they carried so much emotion. This has to be one of my favorites by him but every track he has written is incredible.
[[EMBED:https://www.audiotool.com/track/pete-pfsmg/]]
Track #6:
Pyrite (AT Holiday Song Contest) by andy
This is probably my best track at the time, and I thank everyone who voted for it in the Holiday Contest. Without Sim it never would have been this polished or even finished. I got some new music hopefully on the horizon that will trump this!
[[EMBED:https://www.audiotool.com/track/bl0xnwztfs/]]
Full Album