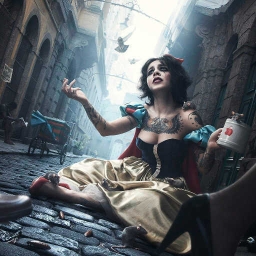 Music by Uprising
Vocals By KrazieKammie
The track art work was done by the folks at Clown Dubstep and is a part of a library of free wall paper downloads. Check them out here.
(link is only visible to registered users)
(link is only visible to registered users)
"For this track i used every tool at my disposal; Audiotool, ableton, Massive, creativly cut loops and one shots, and Audio tools Vocal recording function for vocals.
This track was arranged, mixed and recorded in audio tool.
One of my favorite things about audio tool is that you can use other daws in conjunction with AT. For me this is one of AT's best features.
Here is a list of some of the tools i used to make this track
5 Audio tool Synths for drop basses, Both leads, and Sub bass,
Audio tool recording function with $10 mic to record vocals
Audio tool Effex, eq's and compression for the mixing
Ableton for Piano, Pads, Drums, and sample editing (growels)
Massive For Drop synth and Deep wobbles/ stabs that i dont know how to make with AT.... YET
Thank you KrazieKammie for working so hard on the vocals i know it was not easy with limited Equipment"
-Uprising
Edit: Increased Volume, Added fixed the outro
edit #2 Adjusted volume slightly to correct
edity #3 adjusted EQ on vocals and kicked the vol on vocals up a bit
Create an account or Login to write a comment.