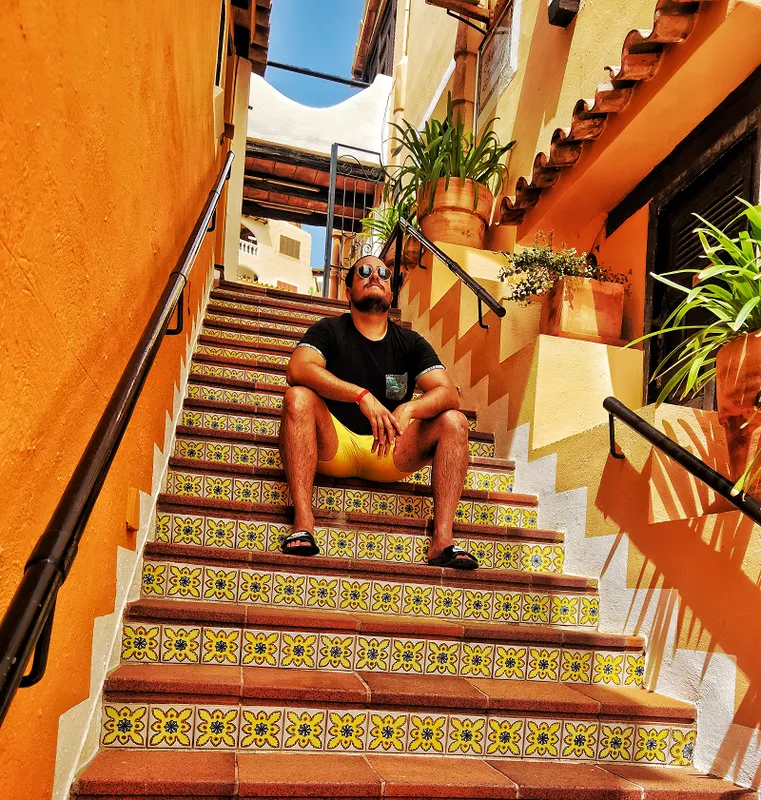 Drimeur is one of the few remaining representatives of the old-school Tech-House genre. He sticks unerringly and authentically to the sound design and the structure of his idols and still gives his tracks that certain pinch of profound musicality and Frenchness. Let's call it the Drimeur factor. But he also presents other classic dance-floor filling styles like Acid, Techno and Retro Electro on his never-boring tracklist. If you haven't ever looked at his portfolio, which has been growing for 12 years, we strongly advise you to do it.
Interview:
About Raphael aka Drimeur
Hi everyone this is Rafael speaking. I'm a 30-year-old French guy who discovered Audiotool 12 years ago... Yeah it's been a while but I've found the tile between the studies and other stuff to really improve my skills on this wonderful device called Audiotool.I didn't try that t illg that 3 years ago early in 2019. It's a bit rude to call it a device *cos to me it' like the brush for the painter, the salt to the pepper, the silicon to Nicky Minaj : it allows the musician to flourish or anybody interested, far or close, in music. Aaaaaand it's free! So any nine-year-old trap OG on AT can improve themselves here ;) (be nice gentlemen we've all been through this). So let's talk about music because that's why we're in it, after all... I would say that I've had many favorite styles in my life. But for now it is house music, articularly deep house music. Talking about taste, I'm a salt/sugar man but... not on pizza pls... 😅 Let the Italian people be! Would you put strawberry jelly on a camembert? Never! Sacrebleu! So... Oh wait I think I did once... Nevermind. What was I saying?
Describe the style of music you produce
I'm not a music nerd and I kinda like the word nerd but when I make music I try to put across feelings that I use to produce my tracks. After all I think that for the most part of my music I wanted to make people dance, in a melodic way. Sometimes with a bit of hump tss hump tss sometimes with a kind of brrrr paaaw and maybe a little of dou bidou bidou paw. More seriously: I think my music is a mix between the classic house and acid house because I like 303 so much. I like it when it's melodic, so I always want the chords to be so. I love it when the kick is clear (trying my best) and the snares and hats are groovy so I try to always have it in my tracks.
What is your musical background and when did you start making music?
In a lot of my tracks I've got Latin American influence flowing in the snares' rhythm because of my origins and the fact that I listened to a lot of Latin American music (salsa y Reggeton de Cuba que so Cubano por parte madre) when I was younger. You can also find a lot of 90s House influence in many of the chords. Most of all I think that the Playstation 1 and its Wipeout game had a great influence on my style. I can quote also the great GTA San Andreas soundtrack. The last oneI really liked was Destiny 2. Yes, I play a lot of games and it's kinda desperate for my girlfriend 😅. I can also talk about my parents cause they always had something to play music in our home. My dad was born in 46 so I listened to a lot of old French singers with age but also jazzmen with trumpets. He also turned the volume up to wake me up on Sunday morning when I was too sleepy or in a hangover and it was classical music most of the time so it was kinda difficult with classical music. Better now. Today I get a lot of inspiration from house/techno/ EDM artists such as Ross Couch and his Jazz session, Late 8, Nto, Joachim Pastor, Avourr, Boris Brejcha, Daft Punk, Mr Oizo, Eric Prydz and others. I also like to check Djs set from Chris Luno on YT. I think I've always wanted to create some music. I started playing the piano at 6. I went to a music school till I was3 ,but I begged to stop because I couldn't stand the professor. It's kinda pathetic but I ran out an entire day to avoid this "torture" wow that's so thug. Anyway, then I started home piano classes and then stopped when I started studying. I think I discovered audiotool at that time 12 years ago but like I said I really started making music here in 2019. And it's been a pleasure and I hope to continue for a long time 'cause it's kind of fantastic. Also, I recently started learning to play the guitar. Thank you so much AT.
What is your favorite Audiotool device and why?
For the little I know of AT I must say the Matrix because you can create a very wide scope of rhythm thanks to it. You all know that an arpeggio can be the start and end of any track, if you want melody in it, of course. And if you don't like arpeggio, you can just play the chords! Isn't that wonderful? Do you have any one note and no chords in mind? No problem: the matrix will please you, but don't forget to plug it on a synthetic so it'll work. The 303 is also kind of magic to make some acid bass lines : module the fq and the resonance, put some accent on notes and slides on others and your techno track is almost finished! Only drag it on the board while playing your track! You may like it... or not 😉.
What is your favorite trick in AT/What technique do you always use?
Thanks to Mr. Overdrive music (for the French people) and more recently infyuthsion and others tutorials, and also with collabs, I'll say the compresseur : to make your track bounce and pop, connect the compressor with your bass or other Low fq and put your kick on sidechain. Then module the ratio, the threshold, attack and release. You'll find that your bass is not disturbing anymore combined with your kick. And the little red light won't shine! Cause brrrr that's a mean thing when your red light starts to flash…
Have you ever had a writer's block? If so, how did you deal with it and what do you recommend to your colleagues?
I've never had a writer block because I've never created music under pressure. Maybe if I was in the music business I'd have some stress to finish a track or an album on time. When I feel like creating music I do, and if I don't I do other stuff like learning how to mix or playing the guitar or playing football (Allez Paris). I would say that you shouldn't put pressure on yourself when you create music. Easy to say. But some advice: when I have a melody in my mind I record myself singing (don't know if you'll call it singing but never mind). What has helped you the most on Audiotool to improve and widen your musical horizon? * To discover other artists I must say the charts help a lot, but also surfing on the deepest part of audiotool you can even find artists that haven't been active for a long time. Also the remix button is a nice way to discover how an artist made a track and understand the process of making music and also understand how music styles are made, from the bpm to the rhythm codes. And also all the tutorial parts in AT and St. Infyuthsion the great what? who has done amazing work on his YT channel.
What do you like most about Audiotool? Is there anything you would like to suggest?
Man... what can I say... I'm so grateful and really admire the work you are doing, guys. That's why I want everybody to support Audiotool on Patreon. Do so and you'll have the little blue star on your pfp! It's so cool! The collab thing is also a great idea:you can chat with your colleague making music and discuss live what to do to your track! I have never tried the vocal or video chat but I think it's great too! I mean even I could make collabs with greatest artists on AT or see how they managed to make legendary tracks on AT. So for me it's such a shame that AT isn't the number one DAW! It really has to be more popular to increase the community. It must be viral on social media! Make a publicitary spot on TV for God sake! 😂 Really I wish the greatest for this platform and its creators, editors and artists. Pleaaaase keep it up!
Your message to the community:
I love you all! Really I do! And we all must keep in mind that Audiotool is a sacred place that we must keep far from unconstructive words. Always try to help each other to improve. PEACE
Social/Music Links
Youtube https://youtube.com/channel/UCPb07eU4cKhI5Wh_JBbpw-g
Soundcloud https://on.soundcloud.com/P68RG
Instagram https://www.instagram.com/leafar.drim/
Edition Audiotool: Drimeur
Track #1:
Shreddin' by Goon
Goon is one of the most talented artists I have found in Audiotool. He has everything : great grooves, stunning basslines, some craziness, a lot of creativity and also the coolest covers . I remember discovering this track and being bowled over by it. Literally. Hope you enjoy it too!
[[EMBED:https://www.audiotool.com/track/25aaa3p7jke/]]
Track #2:
Q8 by Kepz
There are some artists you want to sound like. Kepz is one of them. This Q8 track has inspired me so much that I had to add it here. This guy has such an underground touch that I love. Try it. You won't be disappointed!
[[EMBED:https://www.audiotool.com/track/d90d0c7b/]]
Track #3:
MIDNIGHT WONDERS by Tim Derry
Man this energy... For me, Tim Derry has the most impressive skills on AT. This track is the proof. Listen to it and you'll be smiling, crying and headbanging at the same time. So many emotions and so much power in the mix. And the acoustic piano samples... Wow! Shut up and take my money! As they say
[[EMBED:https://www.audiotool.com/track/bibmufgce8s5/]]
Track #4:
pack and get dressed by Snadbrugen
What can I say about Sandburgen... This guy never stops! Always has a top track up his sleeve. Multifunctional music robot, Anonymous hero of Audiotool. I think he is my spiritual master and - obviously - musical master. I picked this track because it sums up everything I like in his music : underground shape but with a melody driving you to another level and the drums making you say yes. Delicate and progressive. I have made two collabs with him and it was crazy for me... If you have a chance to do so, do not hesitate one second! Mister Sand man special Danke to you!
[[EMBED:https://www.audiotool.com/track/3m4m2g60e9/]]
Track #5:
Psychadelic jungle by Melancolist
Last but not least : Melancolist... When I discovered him on AT, it was love at first sight. I fell in love with his synths : powerful and delicate at the same time, with so much colors in it. He really made me think about Nt'O and Joachim Pastor. I also made few collabs with him and was always impressed by his creativity. Overall on the chords he has a sense of musicality. I think this track was the first I heard from him. But all of them are gorgeous. We miss you Melancolist, get back soon!
[[EMBED:https://www.audiotool.com/track/l1x9e8o236/]]
Track #6:
You need to listen toOten et fadzo by Drimeur on Audiotool When you create something, in my case an AT track, I think your creation does not belongs to you anymore. It belongs to the audience. And sometimes you do not really get the attention you wanted when you created something. You wanted that drop to be the best in the world but the comments say that the intro is incredible,ibke,for example. And that is also what I like in music. We all speak the same language but still have different points of view. So this track is not my most popular track, but for me it's my best and has everything I like doing in it : house style chords, headbanging kick, snares and hat dancing, 303 running progressive melody and a bit of synthwave. Hope you'll enjoy that!
Extra message: For those who have read this far : CHEERS. Also I hope you understood my poor English.
[[EMBED:https://www.audiotool.com/track/nzl7tkg6fb/]]
Full Album