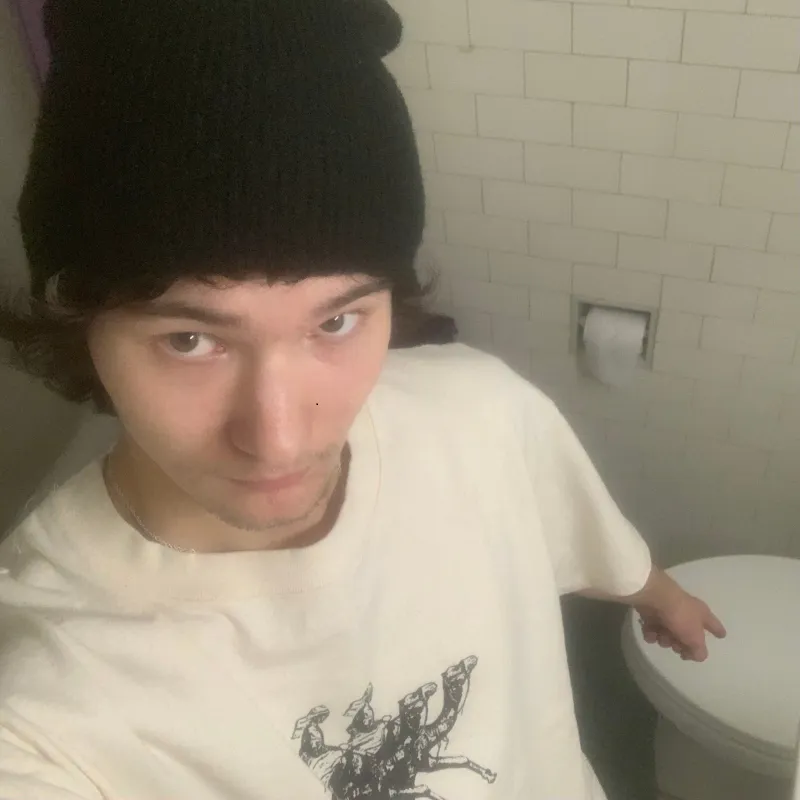 If you like obscure to dark experimental sounds, you can't miss withdecay on Audiotool. Hardly anyone manages to create such evolving and meandering soundscapes. They captivate the fascinated listener as if they were the soundtrack to an HR Giger painting.
But that's not the end; his Metal and Alternative inspired pieces deserve mention too. There is as much to discover in each piece as in other people's whole portfolios. He's not an artist for hasty listeners. For withdecay you need time.
Interview:
Sidney aka withdecay
Hello!! I'm 18 years old. I've lived in the same outskirt town of PA my whole life. Around me are old Moravian structures, the constant noise of roadwork, nature here and there, and the occasional army of bicycle kids doing wheelies down the main street. I like to wade through streams in search for cool rocks. I frequently go on walks as the sun's setting and take pictures that are far too dark. I'm an avid fan of black olives on pepperoni/bacon pizza. And I've been on Audiotool for nearly 7 years; I basically grew up on here!
Describe the style of music you produce
I'm super inspired by gritty and grimy textures, especially juxtaposed against equally sweet and soft sounds. Nine Inch Nails, Deftones, and Loathe are some of the biggest inspirations to me because of their ability to nail that heavy/soft contrast. I'd like to imagine I make an amateurish version of all those artists mixed together into some kind of audio soup, with some Daughters and Xiu Xiu sprinkled in as a garnish.
What is your musical background and when did you start making music?
My dad lived for music all of my childhood. In the house he'd be blasting music on the stereo or rehearsing with bands in the basement. Any car ride meant the speakers were rattling with the windows open. Lots of Slipknot, Korn, and Fear Factory. I was gifted a kiddy drumset when I was 5 and from there I became obsessed with music and rhythm! He had tons of demos for DAWs on our family computer, and through trial and error I'd slap things together as a pastime (and not know how to save them.) Together we searched for free DAWs I could use on my own terms, and we eventually discovered Audiotool. I was about 11, just starting middle school. I was insufferable. my music was bad for a while too. I went from making metal exclusively out of drum and guitar oneshots, to making clumsy '8-bit' metal with a simple Machineste and Heisenberg setup, to making future bass, to making lofi, etc. I started teaching myself guitar towards the end of 8th grade and that's when I really started refining my style!
What is your favorite Audiotool device and why?
In terms of synths, definitely the Heisenberg. The phase modulation controls alone let you pretty effortlessly make some really interesting sounds which I appreciate!! In terms of effects, I'd say Quasar. The ability to add reverb with infinite decay is useful for creating long stretching atmospheres with less action going on in the timeline. The vibrato controls are what sell Quasar for me though. When used subtly it can remove the fake robotic stretchy sound that comes with a stock reverb, and when exaggerated it can be utilized for creating lush and dreamy pads.
What is your favorite trick in AT/What technique do you always use?
Not really exclusive to Audiotool, but heavy parallel compression does wonders for a drum mix. It adds lots of snap to transients and imposes a character on the overall sound that makes sampled drums sound a lot more realistic!
Have you ever had a writer's block? If so, how did you deal with it and what do you recommend to your colleagues?
I recently just came down from a huge wave of block! I feel as though a lot of art block comes from a feeling of stagnation, like none of my new ideas are different from my previous ones. I deal with this by simply listening to more music, especially music I'm unfamiliar with! Taking notes from outside your little bubble of genres is a great way to make more interesting tracks once you step back in!
What has helped you the most on Audiotool to improve and widen your musical horizon?
Making note of others' inspirations is a very useful tool!! I've been introduced to some of my favorite artists just through having those types of conversations within the community, which inevitably inspired parts of my own music. I think you should always chase new avenues of inspiration first and foremost!
What do you like most about Audiotool? Is there anything you would like to suggest?
What I've loved since the day I joined is the overwhelming sense of fellowship. I've never felt alienated or 'below everyone' within the community, there's always been someone or a group of people to help elevate me. I've made most of my close friends through this site because of that!! The only thing I'd suggest is the ability to add more channels in the Machineste, since I usually end up having to whip out a second one!
Your message to the community:
Make friends, not fans. You will learn so much more about music and about people that way.
Social/Music Links
Youtube https://www.youtube.com/channel/UCNNeI2WT6EVyRYAoqZuPnxw
Instagram https://www.instagram.com/withdecay/
Soundcloud https://soundcloud.com/otherevil
Edition Audiotool: withdecay
Track #1:
dojo futon by ✧*laevent ✧*
Formulation was by far the most influential album to me on the whole site. It was my gateway drug into experimental music and ignited an everlasting love for relentlessly attention-deficit drum grooves and chord switches. I think this track incapsulates everything I love about the album really well!!
[[EMBED:https://www.audiotool.com/track/7uqb0vtf/]]
Track #2:
the pieces fit by naswalt and sim
This track will always be extremely special and nostalgic to me. I owe a great deal to sim and Naswalt for their influence on my style. Naswalt pretty much single-handedly inspired me to try vocals on Audiotool, and sim's dark and grimy production is something I will always adore!!
[[EMBED:https://www.audiotool.com/track/q0yw6p4yhx/]]
Track #3:
apogee by opaqity
The entirety of the apogee EP blew me away from the sheer crispness of its production. This track inspired me to chase after more acoustic drum sounds and get really experimental with it. I still take notes from it to this day! Super fun track that brings me back to a good period in my life!!
[[EMBED:https://www.audiotool.com/track/h6es7bscjb3/]]
Track #4:
psychosis by etterath
Bro oh my god. I could rant about this track for hours. From beginning to end you can feel this melancholy weight, even on the most beautiful parts of the track. It morphs chaotically like beauty and horror are violently competing with eachother for space. This track is RAW and very special to me, and there's plenty more where that came from across her profile!! She's one of my biggest inspirations and a great friend :)
[[EMBED:https://www.audiotool.com/track/16n5vy46/]]
Track #5:
The More I Run by Civility
I discovered this artist a few weeks ago, and he's easily become one of my favorites on the site. I love his voice and the way he produces his vocals! He artfully brings a flavor of indie to Audiotool that fits right in and shoots me back to nostalgic days!!
[[EMBED:https://www.audiotool.com/track/f6qqbn6quv/]]
Track #6:
Not So Beautiful Now by withdecay
I think this track is most representative of my musical progress so far. It was also made during one of my more creative and consistent periods on the site. Moving forward I'm not sure stylistically where I'll end up, but I hope to go above and beyond the cleanliness I achieved in the production of this track!!
[[EMBED:https://www.audiotool.com/track/9ebaicybcygy/]]
Full Album