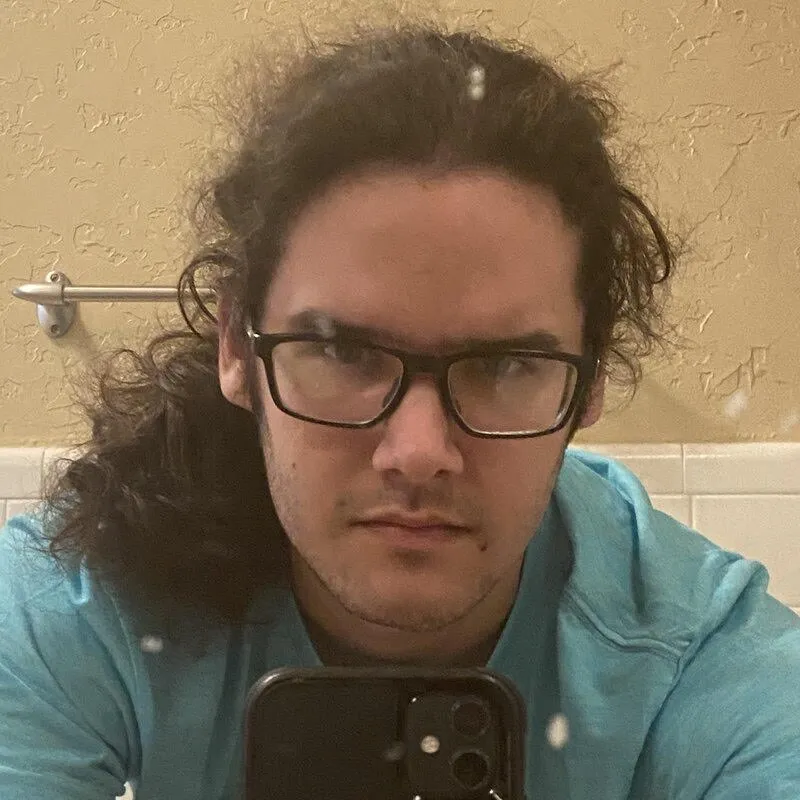 We proudly present to you the winner of the last Featured Artist poll. We are especially pleased that it chose such a creative personality who, until not so long ago, could be considered an absolute insider tip. His tracks result from a sophisticated musicality combined with artistic fearlessness and an unerring sense of the extraordinary. Thus sphere's music remains only superficially inaccessible: once it has caught you, it unfolds a claustrophobic beauty that won't let go of the advanced listener. Congratulations on the deserved win.
Interview:
About Dylon aka sphere
Hello, I'm Sphere. I'm 17, I'm from Texas, and I joined Audiotool around 7 years ago (Yeah, you can do the math on that. It's a little embarrassing). I've gone through a few aliases since then, an incredible amount of mental growth, and more than a few attempted musical styles before getting to where I am now. As for my favorite pizza style, I have no preference. All pizzas are created equal.
Describe the style of music you produce
Most of my music for the last few years has been centered around ambient soundscape kinda stuff, but more recently my music has delved into more of an experimental indie-folk kinda vibe, or at least I'm hoping that's the direction it goes in. I would like to think I'm going in a direction that hasn't been explored very much on Audiotool, with the exception of a few others recently.
What is your musical background and when did you start making music?
Although nobody in my family is a musician themselves, music has been a large part of my life for a long time. I remember when I was very young, my dad would play stuff like Coldplay and Radiohead in the car, and a lot of those kinds of artists have stuck with me and been a large part of my music taste. I had become interested in making music some time before finding this site, but I hadn't really had a consistent way of making music before stumbling upon Audiotool. Once I did though, I really stuck with it. Since then, I've put a lot of effort into broadening my music taste as much as I can, and incorporating what I find in others' music into my own.
What is your favorite Audiotool device and why?
In a broad sense, I would have to say the audiotrack, simply because having an entire dedicated sample library at your fingertips allows for near infinite possibilities. More recently, though, I've been gravitating towards the ring modulator. Being able to combine the sound of two synths in such an outlandish sounding tone is a very interesting way to get certain sounds out of the regular synthesizers that you wouldn't be able to get out of them otherwise.
What is your favorite trick in AT/What technique do you always use?
Very rarely are there any specific tricks that I use within my tracks. For the most part, sound design and mixing is incredibly minimalistic for me. Hell, I often use default synths without any effects whatsoever and I can usually get the sound I want out of it, which I guess is sort of a trick in and of itself.
Have you ever had a writer's block? If so, how did you deal with it and what do you recommend to your colleagues?
I think writer's block is an inevitability for anyone who wants to pursue music. Though I wish there were more I had to say on this subject, there really isn't a one-size-fits-all solution that works for everyone, and though it's broad, the only reliable solution I can recommend is just to wait. In some way or another, something always comes back to you. Always.
What has helped you the most on Audiotool to improve and widen your musical horizon?
Finding and listening to new music all of the time. Any kind of media sharing service on the internet can be a tool to discover new music that you may have never heard of. The community of Audiotool themselves are a great resource for finding new music as well. The individual tastes of everyone here are so remarkably diverse that you can literally find anything you want if you just know who to ask. Trust me, the more you are willing to listen, the more new music just comes to you, whether that be in YouTube suggested videos or Spotify recommended albums
What do you like most about Audiotool? Is there anything you would like to suggest?
The essence of Audiotool is as much of a community as it is a tool for others. It's the constant encouragement of ourselves from others in the community that makes us strive to get better. Though it has more than its fair share of quarrels, the community of Audiotool is fundamentally unified through our love of music and our love of art, which is what I believe to be the greatest thing about the website.
Your message to the community:
Everything you do is important, and you are responsible for all the happiness you've ever had in your life. You should be proud of yourself for that.
Social/Music Links
Youtube https://www.youtube.com/channel/UCNFoGyh6Xof0pllvJ_DQu9w
Soundcloud https://soundcloud.com/spher_e
Edition Audiotool: sphere
Track #1:
Lonesome by Someone
This is a fairly generic answer, but it's really obvious to see why. Even outside of audiotool, this is one of the most outlandishly ingenious works of production in any DAW, and the mystery surrounding it makes it an unforgettable gem of Audiotool history.
[[EMBED:https://www.audiotool.com/track/lonesome-xl0sef/]]
Track #2:
Call of the Void by opaqity
It feels objective to say that this is one of the most beautiful tracks on Audiotool. It's a near-perfect show of the beauty of simplicity, and just a great little piano composition that only someone as insanely talented as opaqity could pull off on Audiotool.
[[EMBED:https://www.audiotool.com/track/18viq4m1j/]]
Track #3:
Sore Loser by nico and solar plexus odyssey
here was this super interesting wave of absurdist experimental music on AT around 2019-2020, with Nico and Heissen kind of at the forefront. Eventually, it all coalesced into this absolute fucking beast of a track, which set some seriously crazy precedents in the community. That said, Nico and Heissen are absolute masters of their respective crafts, and their music deserves much attention and appreciation.
[[EMBED:https://www.audiotool.com/track/uaovyecpr8m/]]
Track #4:
Loose End by Wightfall
Wightfall brings a number of elements to Audiotool that very few people ever have, and he manages to create an atmosphere in a lot of his tracks that is near unparalleled even outside of Audiotool, with beautifully haunting melodies and amazing vocals the whole way through.
[[EMBED:https://www.audiotool.com/track/eqtt9hf9dnhi/]]
Track #5:
Inclusive Data by sila
This track is an intensely beautiful demonstration of expert-level sampling, the likes of which I doubt have ever been seen before on Audiotool. The understanding of the DAW required to make such a complex, morphing soundscape like this is really intimidating to think about.
[[EMBED:https://www.audiotool.com/track/slzql0op/]]
Track #6:
It Ought To Be by sphere
his is sort of the direction I've wanted to take my music for a long time, and only recently have I been able to bring it to fruition. You can hopefully expect more music like this from me soon.
[[EMBED:https://www.audiotool.com/track/dl873fvubyhf/]]
Full Album